PMX45XP CE HAND SYSTEM
Meet the best-selling line of Powermax portable plasma systems. Powerful and versatile, this system delivers faster cut speeds, increased cut capacity and access to Hypertherm's full range of specialty consumables.

- Cut in confined, hard to reach spaces with HyAccess
- Intricately cut parts with fine details with Finecut
- Remove lugs flush with base material with Flushcut
- Mark part numbers
- Gouge
- Drag cut

One system can do it all.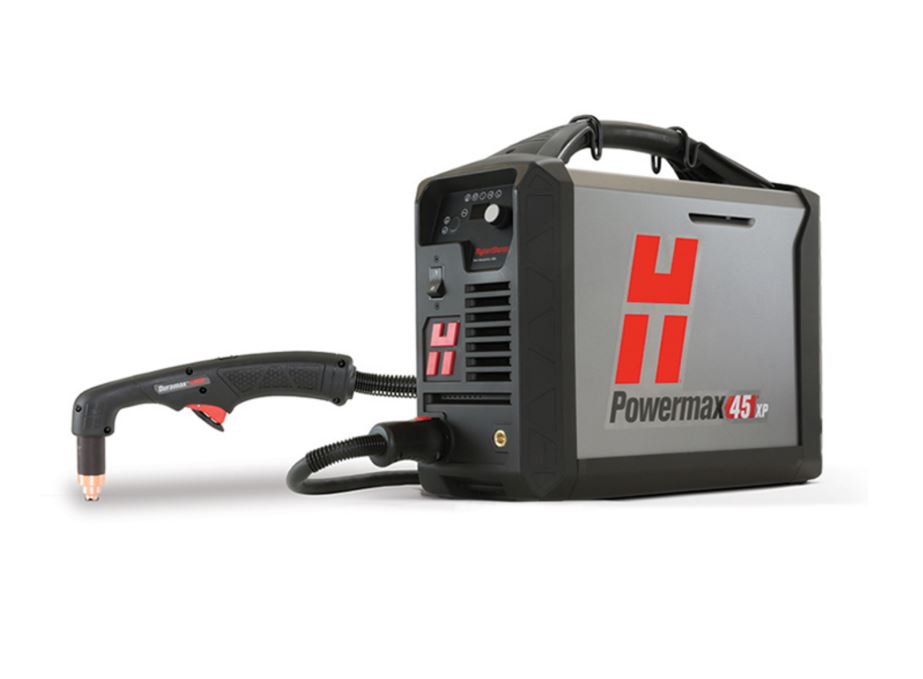 PMX45XP CE HAND SYSTEM
PMX4XP5 CE Hand systems For Sale Across Australia
Meet the best-selling line of Powermax portable plasma systems. Delivering 6.5 kilowatts of output power, which is 70 percent more than many competitive systems; this new system is extra powerful, allowing it to cleanly cut up to 16 mm metal. Delivering faster cut speeds, and automatic gas adjustment for quick, simple setup and operation. New Duramax Lock torches support handheld and mechanized cutting of a wider range of metal thicknesses, along with precision gouging such as spot weld removal and marking capabilities.
Rugged and reliable
Duramax Lock torches are designed for high-impact and heat resistance
SpringStart technology ensures consistent starting and optimum torch performance
Hypertherm Certified reliability ensures peak performance even in the most demanding environments
Maximum productivity
Finish jobs faster, with cut speeds 1.5 times greater than oxyfuel on 6 mm mild steel
Superior cut and gouge quality reduces time for grinding and edge preparation
New torch disable switch feature allows faster, easier changeout of consumables
Easy to use
Small size and light weight provide exceptional portability for a 16 mm (5/8") rated cutting system
Patented drag-cutting technology makes the Powermax45 XP easy to use – even for first-time operators
Smart Sense™ technology ensures that air pressure is always correctly set
Extensive array of application capabilities via specialty consumables for fine feature cutting, extended reach cutting, gouging, precision gouging, flushcutting and marking
Cut Capacity
| | | |
| --- | --- | --- |
| | Thickness | Cut Speed |
| Recommended | 16mm | 500mm/min |
| | 22mm | 250mm/min |
| Severance | 29mm | 125mm/min |
| Pierce* | 12mm* | |
*Pierce rating for handheld use or with automatic torch height control
Duty Cycle @ 40°C
50% @ 45 A, 230 V, 1-PH
60% @ 41 A, 230 V, 1-PH
100% @ 32 A, 230 V, 1-PH
50% @ 45 A, 400 V, 3-PH
60% @ 41 A, 400 V, 3-PH
100% @ 32 A, 400 V, 3-PH
Specifications
Product Code
088144
Manufacturer
Hypertherm
Weight

0.00

kg
Available for...
Pick up
Delivery via express courier
Collection by receiver paid courier