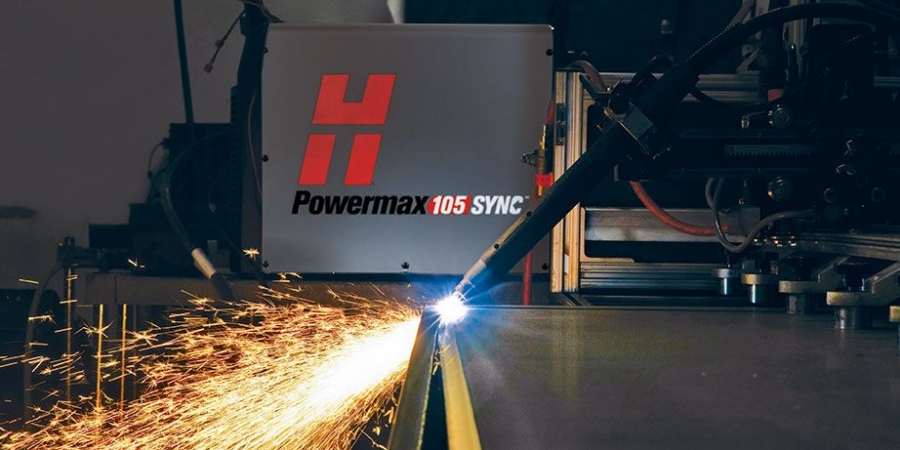 Is Hypertherm worth the investment?
"I like Hypertherm but I'm thinking of going for a cheaper system." It is not the first time we have heard this. While it may be tempting to go with a cheaper option initially, investing in a high quality plasma system like Hypertherm pays off in the long run and here's why;
Consumable life Long after the initial cost you will still be buying consumables. Hypertherm consumables are high quality and have a long consumable life. This is especially true of the copper plus range, the results our customers are getting with copper plus are outstanding in terms of consumable life.
Longer Lifespan As already mentioned Hypertherm systems are made to last. They use higher quality components and and construction.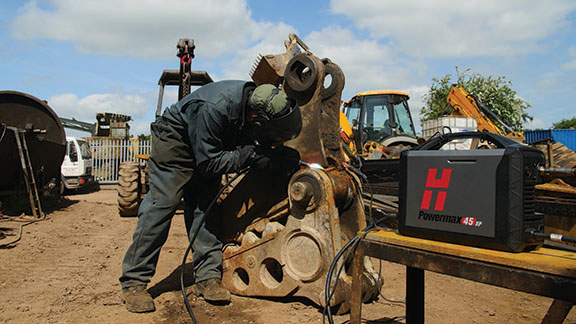 Take for example the way they intake air. Most cheaper systems suck the air straight through the electronics. Hypertherm Powermax systems are designed in a way that the air is cycled away from any electronics which means less faults and errors. In fact after years of use these systems have been opened up by our technicians and no dust is found inside the unit at all.
Consumable options Hypertherm offers the widest range of options when it comes to specialty consumables giving great versatility to your system. Some options include;
Drag-Cutting consumables Hypertherm drag cutting consumables mean the nozzle can be dragged across the surface of the material making things easier for the operator. Simply drag the torch along a straight edge or template. Drag cutting also minimises splatter and blow back, further increasing consumable life.
Mechanised consumables Designed to deliver precision, power and performance for CNC cutting.
FineCut consumable These consumables are specially engineered to provide squarer edges, tighter tolerances and smoother surface finish making them perfect for fine feature cutting.
Flushcut consumables The side nozzle opening on these consumables essentially bend the plasma arc. Instead of shooting out diagonally, the arc can now exit the torch at an angle nearly parallel to the workpiece. Practically, this means you can cut closer, or more flush, to your base metal, significantly reducing grinding work and increasing the opportunity to reuse lugs and attachments saving valuable time.
HyAccess consumables The extra length and a narrower profile of Hypertherm's HyAccess consumables mean better visibility and easier access to hard-to-reach places for cutting and gouging.
Marking consumables These are a great option for many widely used metal marking applications, such as part identification numbers, score lines for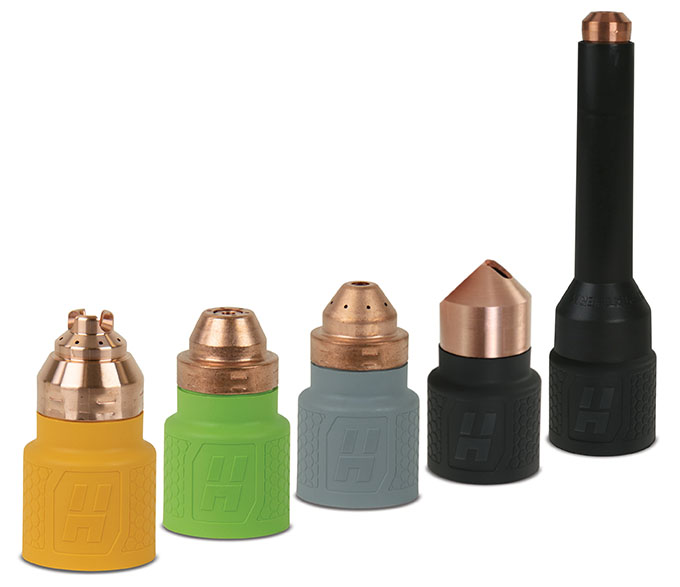 weld or bend placement, dimples for drilling applications and more.
SYNC cartridges The new range of SYNC plasma systems use consumable cartridges which do away with the usual 5 piece stack up. A single-piece colour-coded cartridge cuts change over times to 15 seconds. The cartridge will automatically adjust the application and amperage and collects cartridge usage data when used inline with the smart SYNC torch.
Upgrades Hypertherm makes it possible to stay current with retrofit torches or adapters. These allow older systems get some of the new features and abilities of the latest systems on the market. For example Powermax45XP, 65, 85, 105 can all make use of the new SYNC single piece cartridges.
Support and Service Once the cheaper system found overseas or on eBay is delivered you may never hear from them again. Nothing could be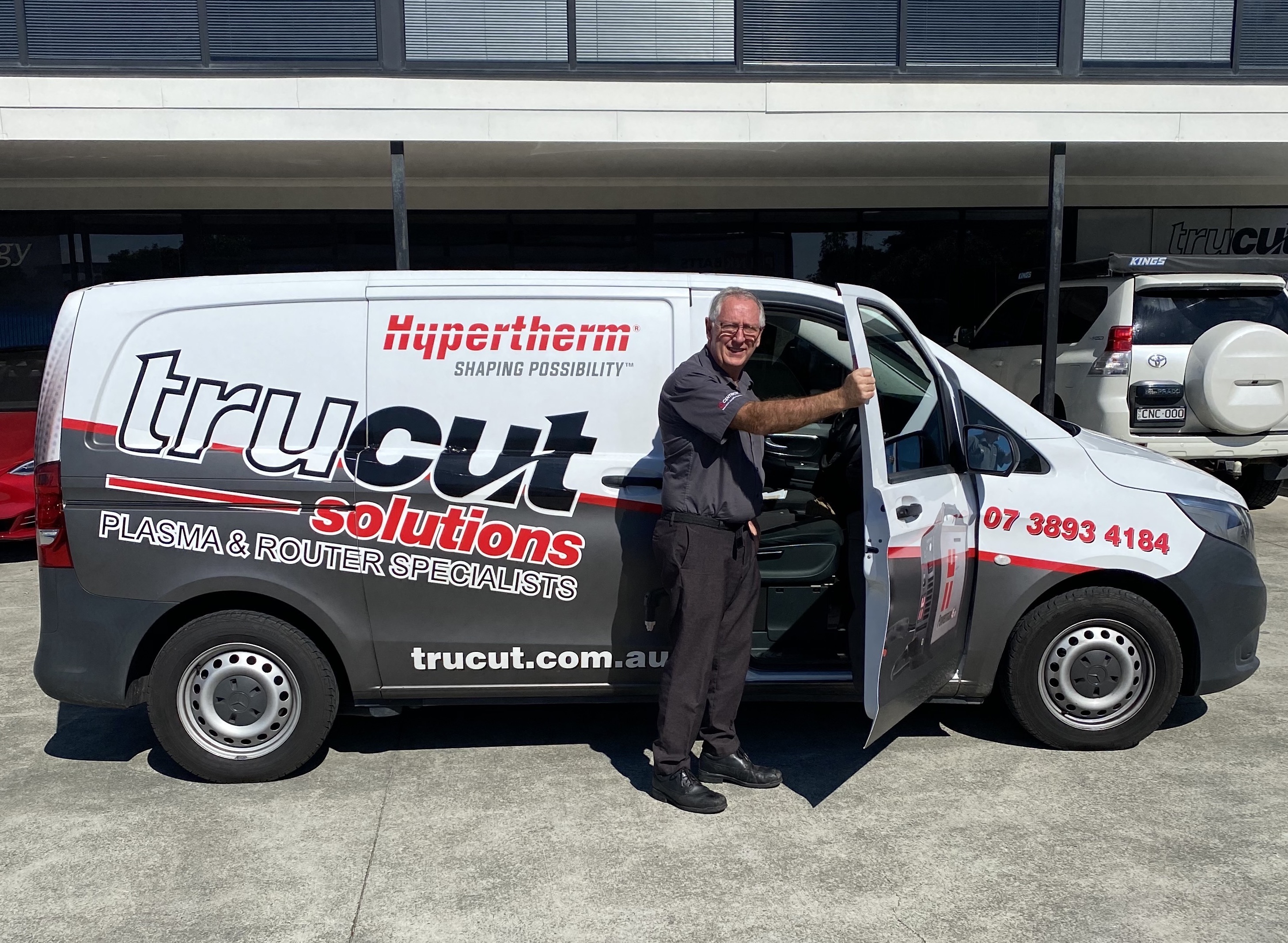 further from the truth with Hypertherm. Hypertherm have Authorised agents all over the world. We are fortunate here at Trucut Solutions, to be one of them. The training they provide for their sales team and technicians are unparalleled. At Trucut we pride ourselves on our follow up service and support. Each of our customers have a dedicated team member that is familiar with their specific situation and needs. We have demonstration vehicles that can show the latest in consumable technology and upgrades in your workplace. We find our customers feel confident in knowing that should they encounter any issues they can call and get the answers or recommendations they need. Not to mention if you find yourself caught low on consumables Trucut offers next day delivery to most parts of Australia.
If you can't afford downtime and headaches investing in a reliable, high quality plasma system will be well worth any extra dollars spent initially. As the saying goes you get what you pay for. Veiw all sytems specification and shop online here.
Tags: Hypertherm, Powermax
Related Articles
Comments